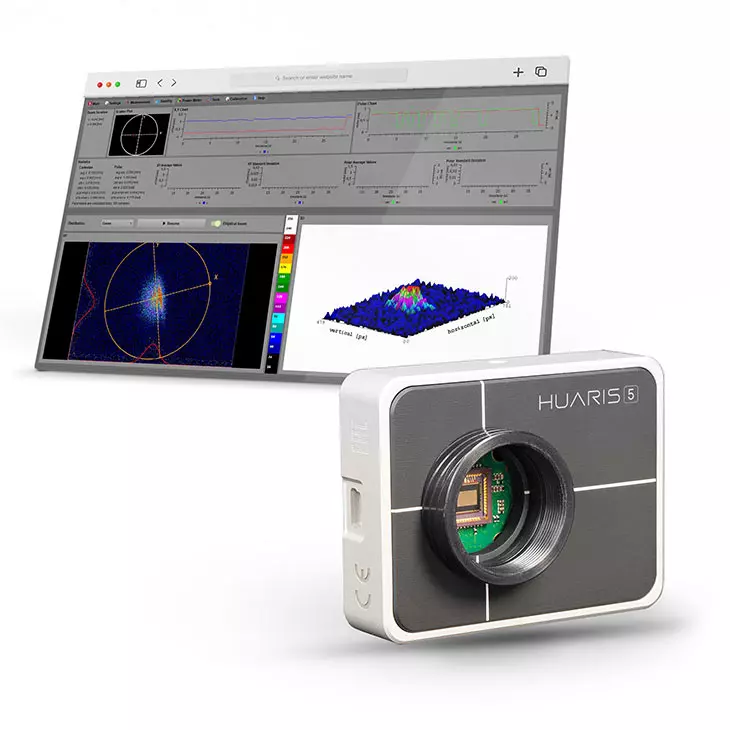 // Huaris System
Huaris Five - laser beam profiler
Laser beam profiler based on 5 megapixel camera for laser diagnostics and preventive maintenance. Our company is the owner of Huaris registered brand, which labels the profilers used to characterize the quality of the laser beams. We are producer of laser beam profiler powered by artificial inteligence.
Diagnostics powered by artificial inteligence
Huaris One is a pioneer in our group of laser beam diagnostics products. The stimulus to create a new laser beam profilometer was the fact that in everyday laboratory practice or in the work of technicians carrying out service works on laser systems, simple, durable and handy devices are needed. In order to maximize work ergonomics, we have developed many advanced algorithms that have been implemented in the software supplied with the device.
// Laser Beam profiler
Huaris futures

ACCURACY
The essential objective of every measuring device is the measurement accuracy. The high quality of our devices has been confirmed in the validation tests at external, world acknowledged laser R&D center in benchmarking experiments proving the ultimate level of measurement precision.

2D & 3D VIEW
In our software you will be able to view the beam in 2D and 3D. Additionally, you can see sections of the beam and apply color palette at your convenience. 3D view is interactive. You can change the view angle. Cursors on the views will let you measure the specific, non-standard features of the beam.

DUAL MODE
We have implemented two modes of operation in our profile meter: automatic and manual. Automatic mode is perfect for the quick adjustment of the camera parameters at start or long-run measurement. Manual mode lets you fine-tune the parameters according to your specific needs.

REPORTING TOOLS
Reporting works like a charm! You can save the measurement report as a PDF file for later use. Additionally, you can save the movie or image files presenting your beam footprint.

DNC TECHNOLOGY
We have developed our own methods and algorithms of noise correction in real-time to maximize the measurement accuracy. DNC is highly convenient. You do not need to re-calibrate the profiler every time you start your measurement which makes the measurement going smoothly.

STANDARIZED BEAM PARAMETERS
The measurement results are standardized beam characteristics as defined in ISO 11146. These include: FWHM, 1/e, 1/e2, 4σ for both horizontal and vertical directions for Gaussian and elliptical beams. Additionally, the parameters of Lorentz distribution as well as statistical momenta are delivered.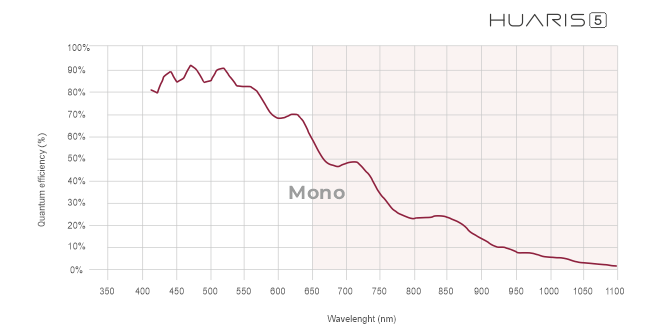 Our laser profiler is aimed at a wide audience for the widest possible spectrum of applications. The profilometer enables the measurement of all standard beam width parameters that are known to the scientific community and industry. We also offer a number of additional functionalities that facilitate work.
Specification
Features
Download
Technical specification of the Huaris Five laser beam profiler
Pixel Class
5 MP
Resolution
5.04 MPix
Resolution (h x v)
2592 x 1944 px
Aspect ratio
4:3
ADC
12 bit
Color depth (camera)
12 bit
Optical sensor class
1/2.5"
Optical Size
5.702 mm x 4.277 mm
Optical sensor diagonal
7.13 mm (1/2.24")
Pixel size
2.20 µm
Sensor manufacturer
ONSEMI
Sensor model
Ar0521
Sensor type
CMOS Mono
Shutter
Rolling Shutter
Sensor characteristic
Linear
Readout mode
Progressive scan
Ambient conditions
Device temperature during operation
0°C - 55°C / 32°F - 131°F
Device temperature during storage
-20 °C - 80 °C / -4 °F - 176 °F
Humidity (relative, non-condensing)
20 % - 80 %
Connectors
Interface connector
USB Type-C, Standard 3.1
Power supply
USB cable
Interface-Speed
5.00 Gbps
IP code
No
Functional capabilities of the Huaris Five profiler
Beam width parameters
FWHM, 1/e2, 1/e, 4σ statistical moments up to
4th for X and Y directions independently
Beam pointing stability
Customizable in Cartesian and Polar coordinates
Auto centering
Center of the beam is found automatically
Manual measurement tools
Cursors: horizontal, vertical, free hand;
spot probe; zoom-in lens
Automatic detection of beam
artefacts and trends*
Yes, with cloud backed with artificial intelligence
Long term data storage*
Yes. Via cloud system in the web browser
Remote preview*
Yes. Via cloud system in the web browser
Fitting
Gauss and Lorentz fit for X and Y direction
independently; Returning distribution parameters
Beam geometry
Astigmatic and elliptical
Metrology
3 types of cursors for manual measurement
VisuaIization
2D & 3D
Calculation frequency
Up to 4Hz
FPS
1-25 range with 1 fps increment
Exposure time
0.12 - 24,62 ms with 0,03 ms increment
Gain
0-100
Parameters setup mode
Auto & manual
Operation mode
Free run or hardware triggering
Noise correction
DNC technology (c.f. User Manual for description)
ISO standards reference
ISO 11146-1, ISO 11146-2, and ISO 11146-3
Software language
English, Polish
* Option available in subscription model. 3 months of free testing period.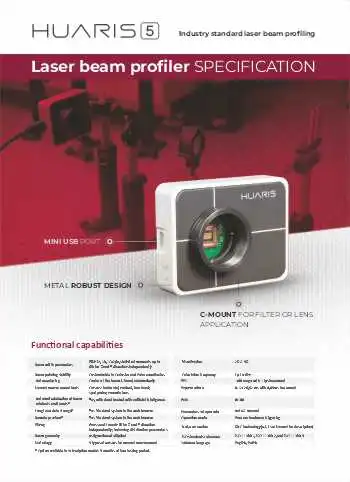 The Huaris One datasheet contains the detailed technical specification of the laser profiler. Huaris One enables the measurement of all essential elements necessary for laser diagnostics and preventive maintenance.