Huaris Five Mobi – portable laser beam profiler kit
Huaris Five Mobi – portable laser beam profiler kit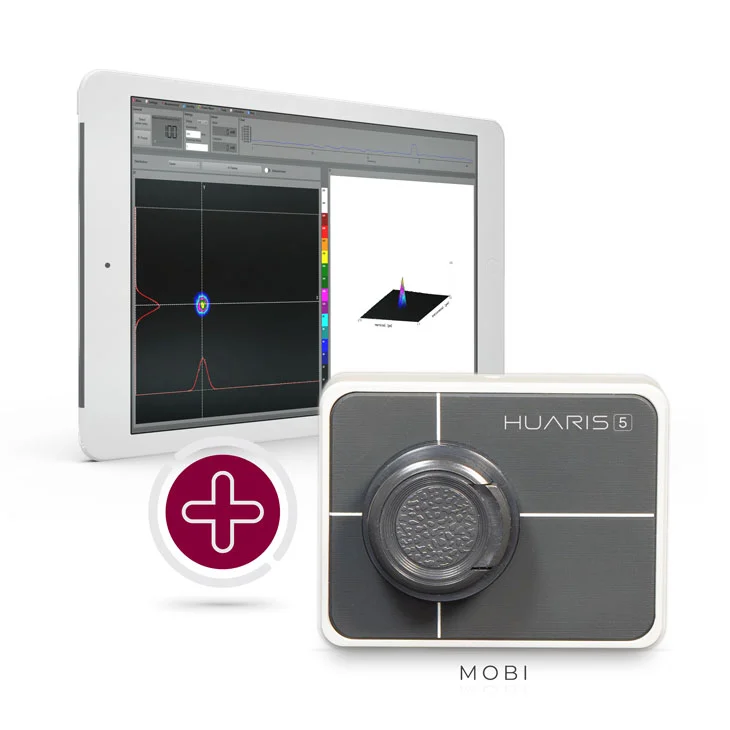 // Portable laser beam analysis kit
Huaris Five Mobi kit
- laser beam profiler + tablet
+ software
Huaris Five Mobi is the first compact portable laser beam profiler that does not use a traditional computer. The set is ideal for laser beam monitoring in everyday use.
Huaris Five Mobi is a complete measuring instrument consisting of two components:
Huaris Five laser beam profiler with 5 Mpx camera,
7-inch tablet with pre-installed, configured and calibrated software.
Ready to laser beam profiling directly out of the box
The Huaris One laser beam profiler allows you to effectively perform diagnostic functions, while saving space in laser laboratories. The product is lightweight and ready to work out of the box. It avoids using a standard computer. All the necessary functions for laser diagnostics are included in the kit. In addition, a 7-inch tablet secures communication with the laser cloud.
// Huaris AI system for laser beam diagnostics
Diagnostics of the quality of laser beams supported by artificial intelligence
Huaris One Mobi is an innovative product in the category of metrology systems for laser beam diagnostics. The stimulus for the creation of a new laser beam profilometer was the fact that in everyday laboratory practice or in the work of technicians carrying out service work on laser systems, uncomplicated, durable and handy devices are needed. In order to maximize work ergonomics, we have developed many advanced algorithms that have been implemented in the software supplied with the device and we have got rid of the computer necessary so far in laser beam characterization measurements.
// The Huaris One Mobi kit includes
Integrated solutions for laser profiling
A comprehensive and the world's first device that allows easy measurement of beam parameters and its monitoring over a longer period of time. It does not require the use of a traditional computer, which has been replaced by a compact tablet.
Solutions included in the huaris one mobi set:
Laser beam width measurement according to ISO 11146

Guss beam measurement
measurement of elliptical beams
Lorentz beam measurement
moment measuremen

Monitoring the stability of the laser beam position
Automatic beam center search
2D and 3D visualization
Automatic selection of measurement parameters
Cooperation with the cloud for long-term storage of measurement data
Automatic detection of artifacts in the beam using artificial intelligence algorithms in the cloud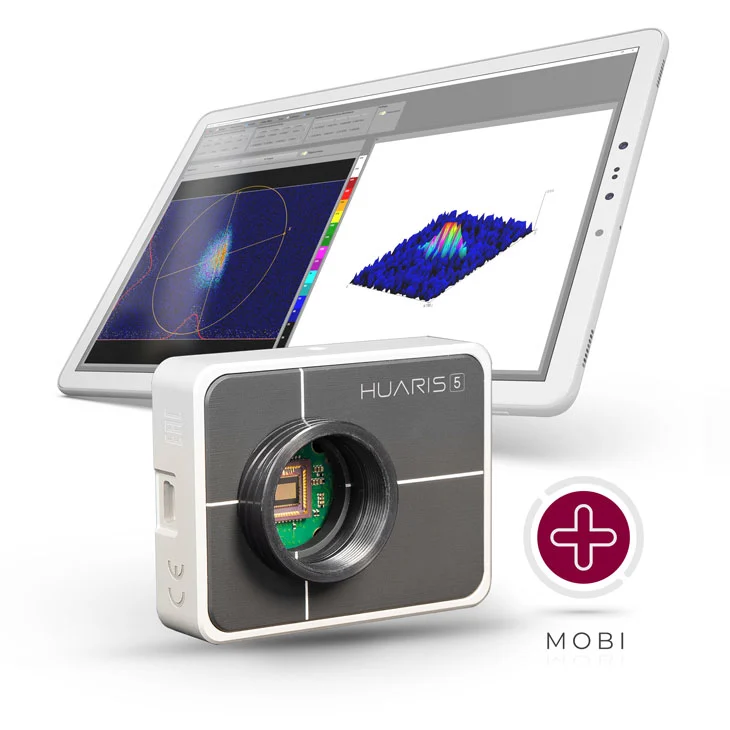 // remote laser beam analyzer for your laboratory
Huaris Cloud - remote laser beam monitoring
It is a cloud system that works in any web browser and works with a local application. This system makes it possible- automatic detection of artifacts related to the quality of the beam, which is carried out by artificial intelligence algorithms.
automatic detection of artifacts related to beam quality, which is carried out by artificial intelligence algorithms
automatic detection of long-term trends in laser beam parameters using AI
long-term monitoring of laser beam parameters
remote monitoring of laser beam parameters
sending alarms via e-mail, SMS, messages in the web application
External trigger for the laser beam profiler
It works with all laser beam diagnostic products offered by our company. Huaris Cloud access for Huaris One, Huaris One Mobi, Huaris Five, Huaris Five Mobi products is
offered in a subscription
model with a
3-month free trial period
.
remote laser beam profiling
Long-term monitoring of the laser beam
effectively predicts laser failure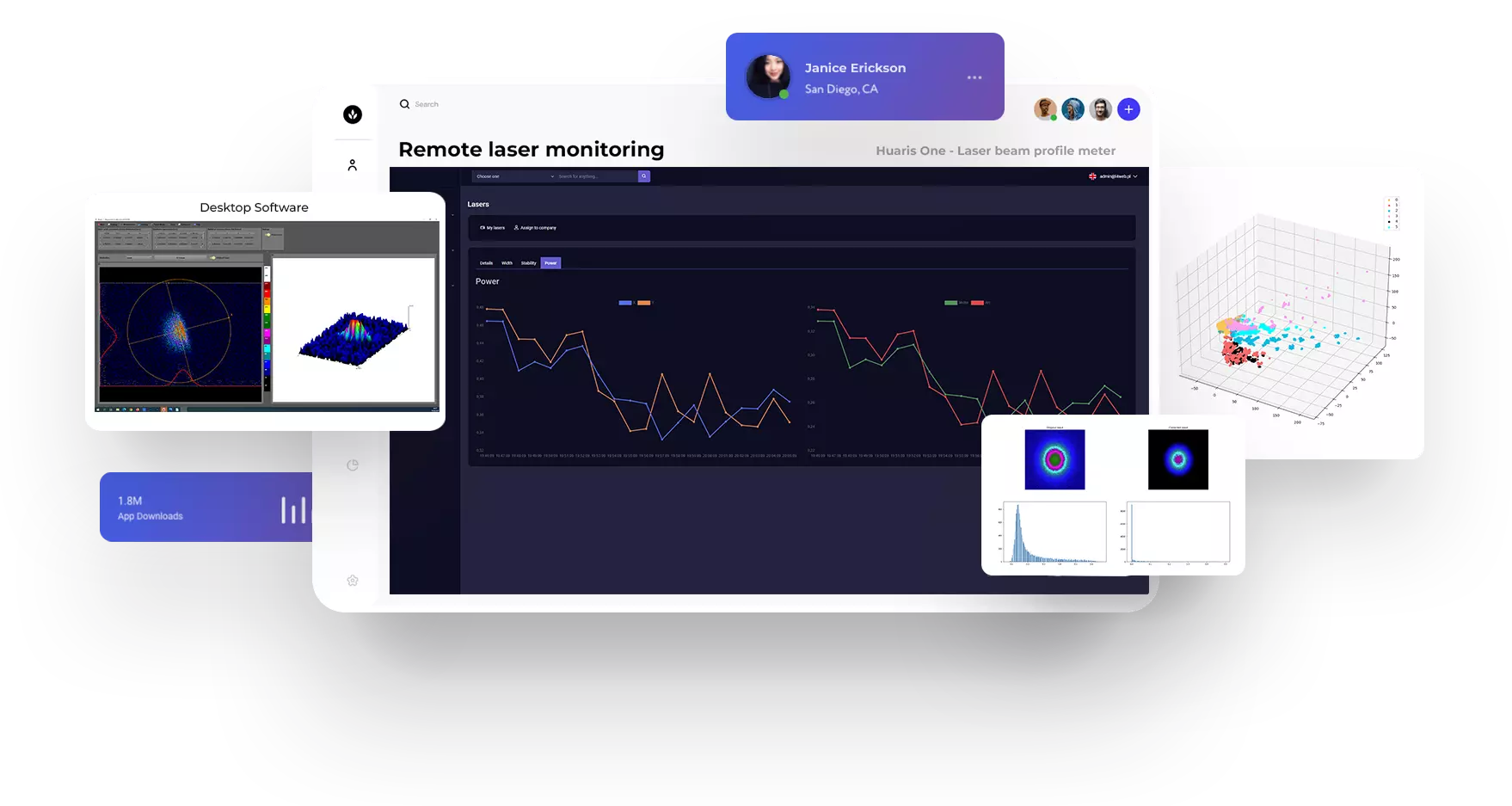 // Most innovative product in laser beam profiling and M2 measurements
Huaris laser beam profiler features

ACCURACY
The essential objective of every measuring device is the measurement accuracy. The high quality of our devices has been confirmed in the validation tests at external, world acknowledged laser R&D center in benchmarking experiments proving the ultimate level of measurement precision.

2D & 3D VIEW
In our software you will be able to view the beam in 2D and 3D. Additionally, you can see sections of the beam and apply color palette at your convenience. 3D view is interactive. You can change the view angle. Cursors on the views will let you measure the specific, non-standard features of the beam.

DUAL MODE
We have implemented two modes of operation in our profile meter: automatic and manual. Automatic mode is perfect for the quick adjustment of the camera parameters at start or long-run measurement. Manual mode lets you fine-tune the parameters according to your specific needs.

REPORTING TOOLS
Reporting works like a charm! You can save the measurement report as a PDF file for later use. Additionally, you can save the movie or image files presenting your beam footprint.

DNC TECHNOLOGY
We have developed our own methods and algorithms of noise correction in real-time to maximize the measurement accuracy. DNC is highly convenient. You do not need to re-calibrate the profiler every time you start your measurement which makes the measurement going smoothly.

STANDARIZED BEAM PARAMETERS
The measurement results are standardized beam characteristics as defined in ISO 11146. These include: FWHM, 1/e, 1/e2, 4σ for both horizontal and vertical directions for Gaussian and elliptical beams. Additionally, the parameters of Lorentz distribution as well as statistical momenta are delivered.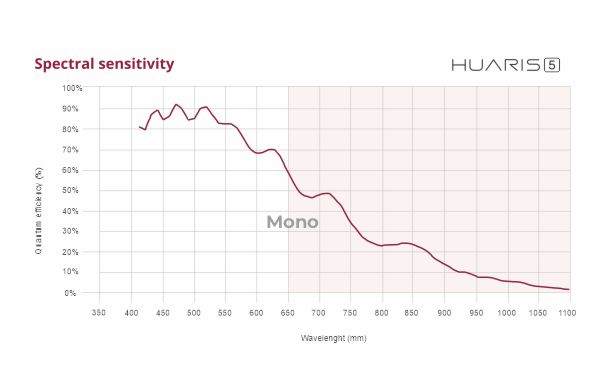 Our laser profiler is aimed at a wide audience for the widest possible spectrum of applications. The profilometer enables the measurement of all standard beam width parameters that are known to the scientific community and industry. We also offer a number of additional functionalities that facilitate work.
Specification
Tablet specification
Features
Download
Technical specification of the Huaris Five laser beam profiler
Pixel Class
5 MP
Resolution
5.04 MPix
Resolution (h x v)
2592 x 1944 px
Aspect ratio
4:3
ADC
12 bit
Color depth (camera)
12 bit
Optical sensor class
1/2.5"
Optical Size
5.702 mm x 4.277 mm
Optical sensor diagonal
7.13 mm (1/2.24")
Pixel size
2.20 µm
Sensor manufacturer
ONSEMI
Sensor model
Ar0521
Sensor type
CMOS Mono
Shutter
Rolling Shutter
Sensor characteristic
Linear
Readout mode
Progressive scan
Ambient conditions
Device temperature during operation
0°C - 55°C / 32°F - 131°F
Device temperature during storage
-20 °C - 80 °C / -4 °F - 176 °F
Humidity (relative, non-condensing)
20 % - 80 %
Connectors
Interface connector
USB Type-C, Standard 3.1
Power supply
USB cable
Interface-Speed
5.00 Gbps
IP code
No
Tablet technical specification of the Huaris Five laser beam profiler
Display
7" touchscreen with resolution of 800x480px
Processor
Broadcom BCM2711, quad-core Cortex-A72 (ARM v8)
64-bit SoC @ 1.5GHz
Connectivity:
2.4 GHz and 5.0 GHz IEEE 802.11 b/g/n/ac wireless LAN,
Bluetooth 5.0, BLEGigabit Ethernet2 x USB 3.0 ports2 x USB 2.0 ports
Video & sound:
2 x micro HDMI ports (up to 4Kp60 supported)
Multimedia:
H.265 (4Kp60 decode);H.264 (1080p60 decode,
1080p30 encode); OpenGL ES, 3.0 graphics
Input power:
5V DC via USB-C connector (minimum 3A1) 5V DC
via GPIO header (minimum 3A1)
Power over Ethernet
(PoE)-enabled (requires separate PoE HAT)
Functional capabilities of the Huaris Five laser beam profiler
Beam width parameters
FWHM, 1/e2, 1/e, 4σ statistical moments up to
4th for X and Y directions independently
Beam pointing stability
Customizable in Cartesian and Polar coordinates
Auto centering
Center of the beam is found automatically
Manual measurement tools
Cursors: horizontal, vertical, free hand;
spot probe; zoom-in lens
Automatic detection of beam
artefacts and trends*
Yes, with cloud backed with artificial intelligence
Long term data storage*
Yes. Via cloud system in the web browser
Remote preview*
Yes. Via cloud system in the web browser
Fitting
Gauss and Lorentz fit for X and Y direction
independently; Returning distribution parameters
Beam geometry
Astigmatic and elliptical
Metrology
3 types of cursors for manual measurement
VisuaIization
2D & 3D
Calculation frequency
Up to 4Hz
FPS
1-25 range with 1 fps increment
Exposure time
0.12 - 24,62 ms with 0,03 ms increment
Gain
0-100
Parameters setup mode
Auto & manual
Operation mode
Free run or  hardware triggering
Noise correction
DNC technology (c.f. User Manual for description)
ISO standards reference
ISO 11146-1, ISO 11146-2, and ISO 11146-3
Software language
English, Polish
* Option available in subscription model. 3 months of free testing period.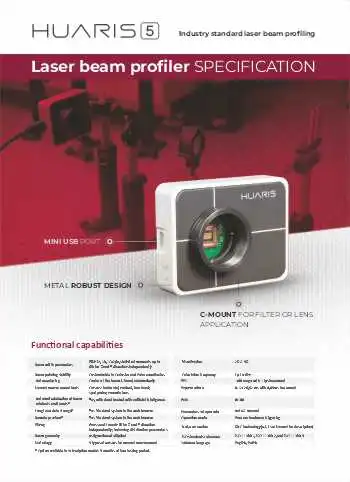 Datasheet of Huaris Five Mobi
The Huaris Five Mobi datasheet contains the detailed technical specification of the laser profiler and tablet. Huaris Five enables the measurement of all essential elements necessary for laser diagnostics and preventive maintenance.