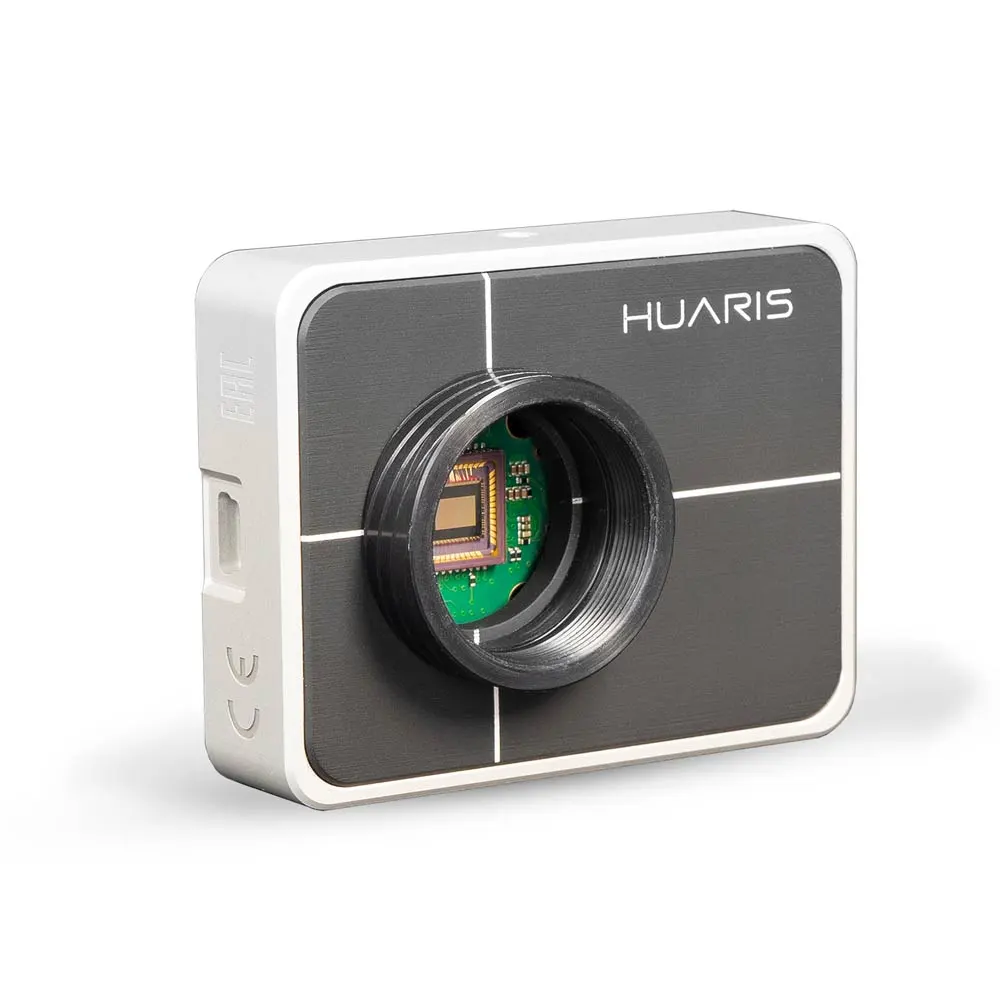 // what we offer
Laser Beam Profiler

- diagnostics powered by artificial inteligence
HUARIS system based on AI (artificial intelligence) for laser preventive maintenance. The system is a Category Finalist in the Innovation Award at Laser World of Photonics in Munich, 2022. Perspectiva Solutions has been acknowledged for Huaris system as 1 of 101 Most Innovative Machine Learning Startups & Companies in Poland.
According to Data Magazine from the UK has recognized our company as one of the most innovative entities in Poland in the machine learning field!
// Laser beam profile
Long term monitoring allows prediction
of laser failure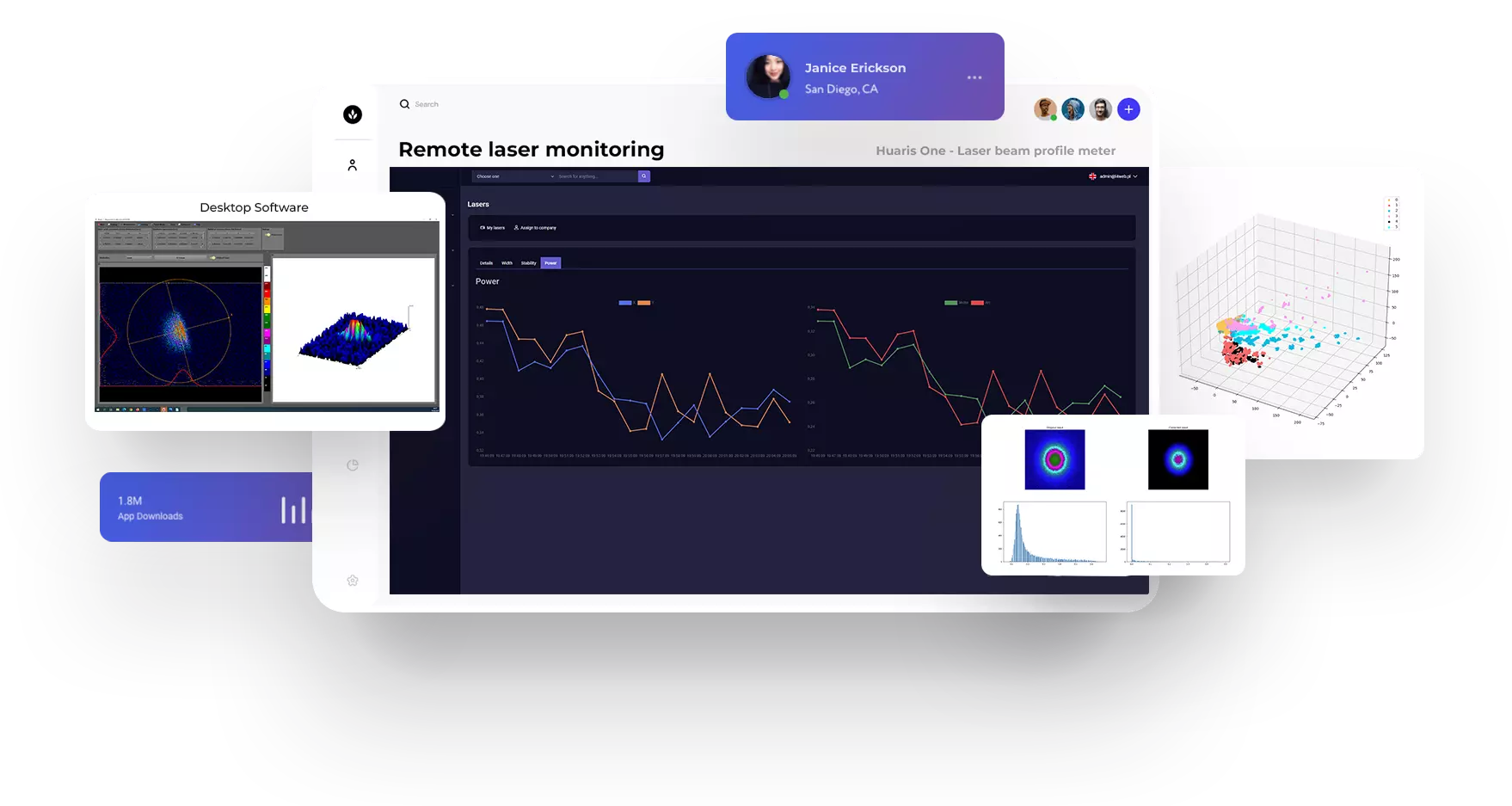 01
Huaris One
Laser beam profiler based on 1 megapixel camera for laser diagnostics and preventive maintenance. Our company is the owner of Huaris registered brand, which labels the profilers used to characterize the quality of the laser beams. We are producer of laser beam profiler powered by artificial inteligence.
02
Huaris Mobi One
First in the world mobile laser beam profiler. We have developed a mobile version of the laser beam profiler, that doesn't require PC for its operation. We named it Mobi One as is mobile and equipped with 1 megapixel camera. Instead of bulky PC we offer a bundle of: a laser beam profiler + compact tablet.
03
AI-powered Huaris Cloud
Huaris cloud system is the first in the world solution that uses machine learning to automate diagnostics of laser beams. We made the lasers finally manageable remotely. Huaris is the first implementation of preventive maintenance in the laser systems. It is patent-protected.
//how it's working?
Huaris is a preventive maintenance system for lasers
It uses artificial intelligence to automate laser beam characterisation.
A common problem in the industry based on laser systems is long downtime of the laser systems in the event of their failure. Long downtime in industry means huge costs associated with disturbance of production continuity.


How to prevent it?
You can apply a preventive maintenance system for lasers.
Additionally, the system allows remote monitoring of the lasers. Huaris monitors the laser beam in real time. It takes only milliseconds to diagnose the laser. All that is done remotely and fully automatically. Any number of lasers can by monitored simultaneously at any location worldwide. Now lasers can get online, real-time monitoring at the mass scale.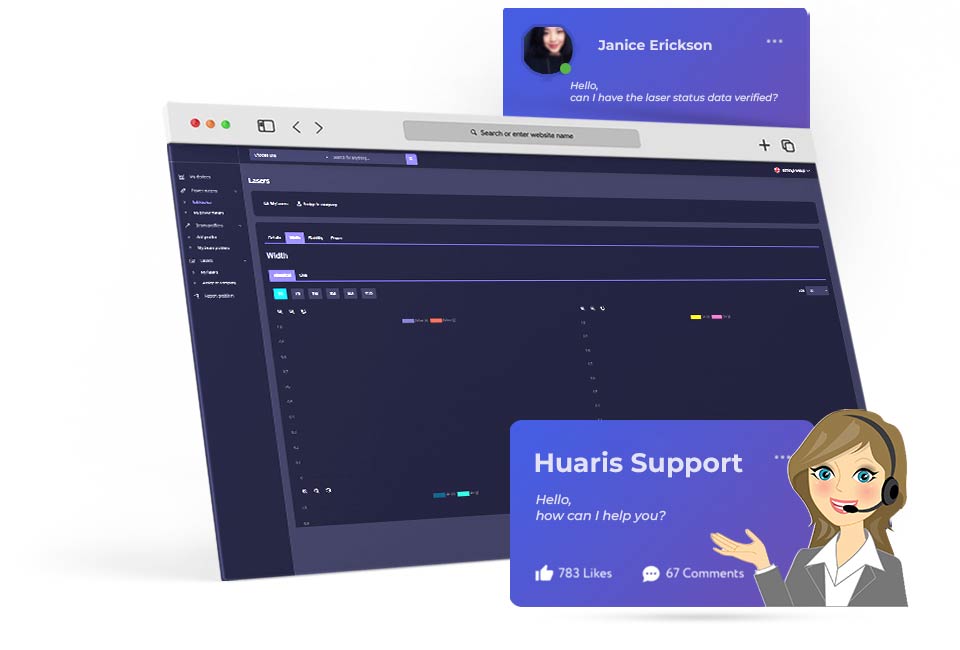 Huaris Cloud system for remote laser monitoring
Powered by artificial intelligence
Remote beam monitoring
Long term monitoring of the laser beam parameters
Automatic alarms
Suggestions for preventive maintenance actions
Centralized source of technical information
For laser owners and maintenance staff
// business benefits
Huaris Cloud System
Suggestions for preventive maintenance actions
Artificial intelligence recognizes type of laser misbehavior and suggests source of issue and preventive actions.
Automatic alarms
Alarms and suggestions of actions are sent to you via web application, e-mail or SMS - as you wish.
Centralized source of technical information
All technical information is centralized in one place: a forum within our web-based application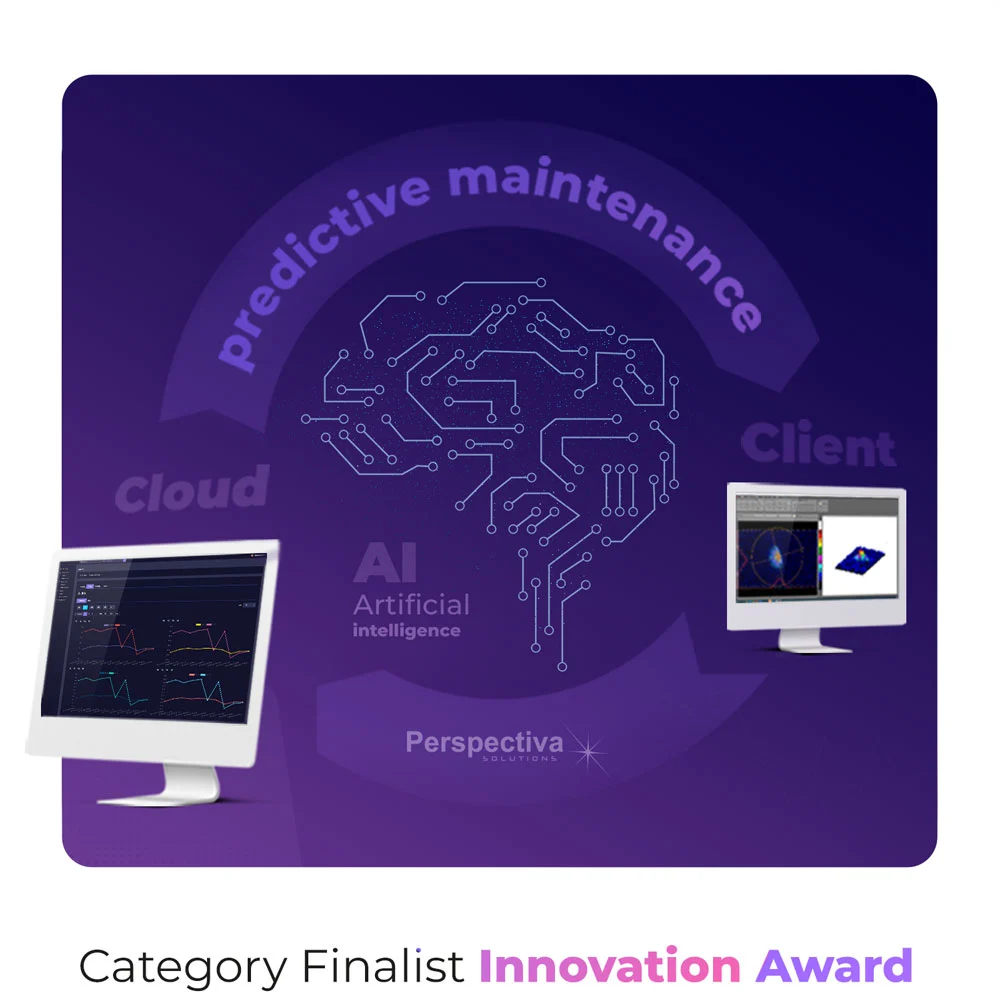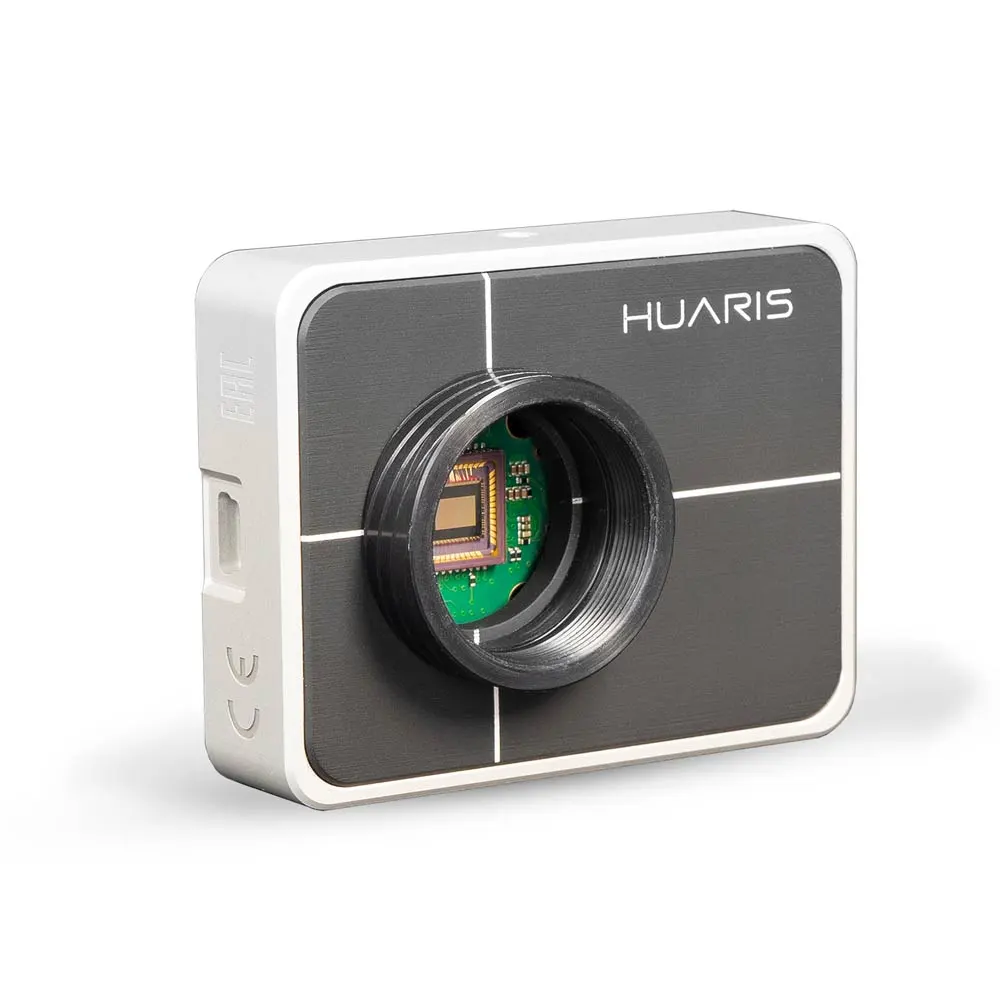 Powered by artificial intelligence
Using machine learning allows automatic detection of laser malfunction. Now it does not matter if you have 1 o 10 000 lasers to manage once you are supported by very smart and automatic algorithms.
Remote beam monitoring
Laser producers are present all over the world. Their clients require support to increase the profitability. Remote monitoring of laser beam quality is a must, and Huaris can provide this.
Long term monitoring of the laser beam parameters
The parameters of the laser beam are now checked occasionally. The Huaris system can monitor your laser over a long period of time, analyze trends and predict its failure.
Huaris Mobi laser beam diagnostic solutions
Huaris Mobi is the first mobile laser beam profiler. It allows you to effectively perform diagnostic functions, and at the same time saves space in laser laboratories.
Huaris Mobi is a complete measuring instrument consisting of two components:
Huaris One laser beam profiler,
7 inch tablet with the software installed, preconfigured and calibrated
The product is light and ready to work after taking it out of the box. In addition, the tablet secures communication with the laser cloud.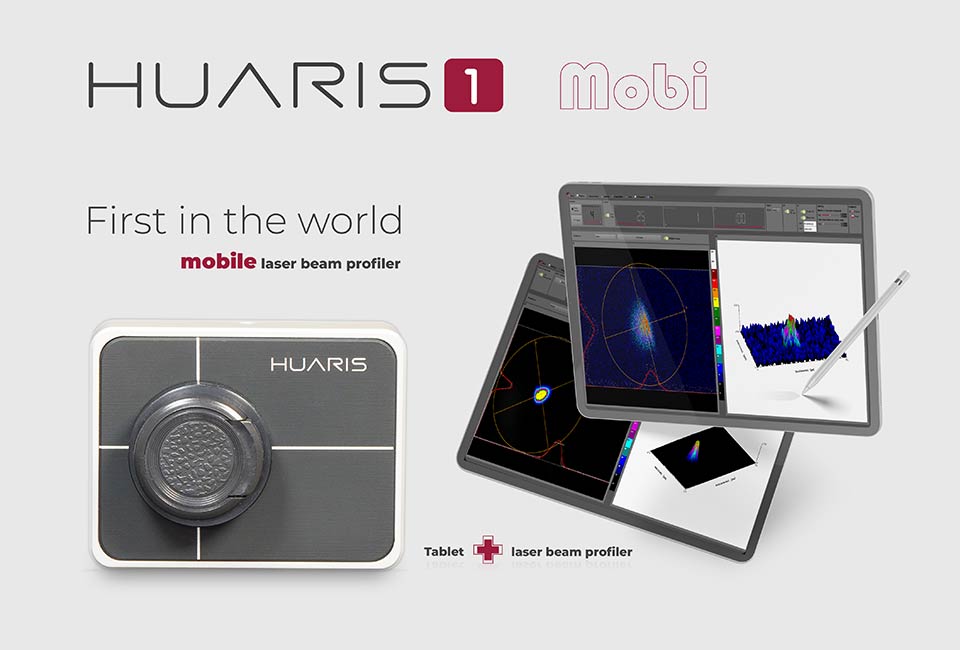 // Laser Beam profiler
Huaris futures

ACCURACY
The essential objective of every measuring device is the measurement accuracy. The high quality of our devices has been confirmed in the validation tests at external, world acknowledged laser R&D center in benchmarking experiments proving the ultimate level of measurement precision.

2D & 3D VIEW
In our software you will be able to view the beam in 2D and 3D. Additionally, you can see sections of the beam and apply color palette at your convenience. 3D view is interactive. You can change the view angle. Cursors on the views will let you measure the specific, non-standard features of the beam.

DUAL MODE
We have implemented two modes of operation in our profile meter: automatic and manual. Automatic mode is perfect for the quick adjustment of the camera parameters at start or long-run measurement. Manual mode lets you fine-tune the parameters according to your specific needs.

REPORTING TOOLS
Reporting works like a charm! You can save the measurement report as a PDF file for later use. Additionally, you can save the movie or image files presenting your beam footprint.

DNC TECHNOLOGY
We have developed our own methods and algorithms of noise correction in real-time to maximize the measurement accuracy. DNC is highly convenient. You do not need to re-calibrate the profiler every time you start your measurement which makes the measurement going smoothly.

STANDARIZED BEAM PARAMETERS
The measurement results are standardized beam characteristics as defined in ISO 11146. These include: FWHM, 1/e, 1/e2, 4σ for both horizontal and vertical directions for Gaussian and elliptical beams. Additionally, the parameters of Lorentz distribution as well as statistical momenta are delivered.
// Beam proofiling integrated solutions
Artificial intelligence for laser predictive maintenance
Automatic detection of beam artefacts
Potential for large scale implementation
Proprietary technology
Scalable for large enterprises
Available for researchers
Automatic monitoring of long – term changes
in the beam characteristics
// Presentation - Huaris laser beam profiler system
Webinar of Huaris System

- Innovation Award Shortlist Quantum category + Sensors
Presentation of the Huris system by Perspectiva Solutions, the subject :
"Artificial intelligence in predictive maintenance of the laser systems"
The webinar presenters were the finalists of the Innovation Award of Laser World of Photonics event in Munich this year in the metrology category.
Perspectiva Solutions representatives had show how do we address the problem of long downtimes and automatic, remote monitoring of laser systems using artificial intelligence.
// Pictures and renders of Huaris system
Introduce Huaris - laser preventive maintenance
Friendly design, solid metal housing and compact dimensions hide powerful possibilities of laser beam diagnostics in your hands. Huaris is a mobile laser beam profilometer that uses artificial intelligence to automate the characterization of the laser beam.
// Drop us a line! We are here to answer your questions 24/7