Wire harness manufacturing process step by step!
Wire harnesses are a key component of modern technology, representing a complex network of electrical connections in a variety of devices and systems. In the article "Wire harness manufacturing process step by step!" we will take a step-by-step look at our company's process of creating precise and reliable harness wires. Learn about the steps in the production of wiring loom, what materials are used, and why precision in the creation of wiring harnesses is crucial to the efficient operation of electronic devices.
Wire harness manufacturing process
Do you want to learn how to make a wire harness? Do you need quick knowledge what is wire harness manufacturing? Here is a quick summary of what electrical harness assembly is, i.e. the process of building a cable harness in several key stages.
Production begins with the creation of a wire harness prototype. Engineers prepare an assembly diagram and check the parameters of electrical connections so that they meet the requirements of the device in which the harness wire will be installed. When we are sure that the prototype meets the quality requirements of the cable harness for the device, we can start production of the harness. See how to choose the right wiring harness.
The process of producing harness wire consists in precise connection of cables with terminals and insulating elements in a way that allows current to flow from one point to another. This process may include connecting wires with connectors, soldering, gluing, crimping or using other methods of connecting wires. To do this, you need to use specialized equipment and good quality materials. Cutting the cable to length and crimping is carried out using specialized equipment.
The components of wire harness are collected in the warehouse. Wires and other materials that come in are supplied by their manufacturers and suppliers and are checked for compliance with the technical specifications.
At the end, an electrical test is carried out, which consists in checking the correctness of the cable harness connections. Mechanical tests in the form of pull force are also carried out.
In the offer of Perspectiva Solutions you can find different types of cabling: custom harnesses, as well as popular types of electrical harnesses, widely used in various industries.We are able to produce and deliver standard cable harness in short time.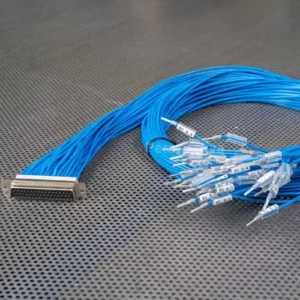 Signal wiring harness
Electric harness produced on demand.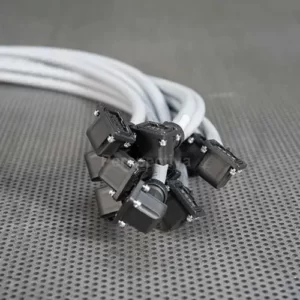 Electric harness powering the encoder motor
Electric harness produced on demand.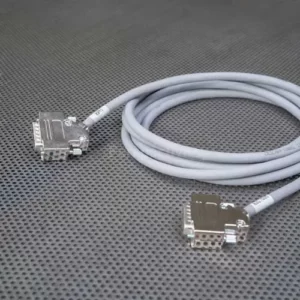 CAN cable harness
Electrical harness for the automotive industry.Electric harness produced on demand.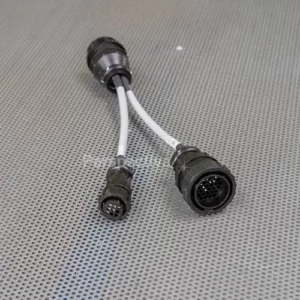 Cable harness with AMP connectors
Electrical harness with AMP connector manufactured on demand.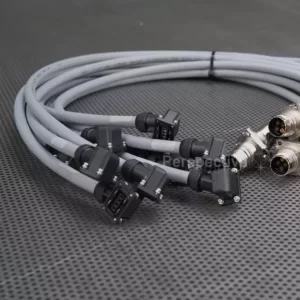 Wire harness
Wiring harness with Junior Timer and Harting connectors.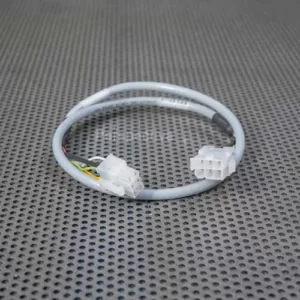 Harness with M12 and Molex connectors
Wiring harness with M12 and Molex connector manufactured on demand.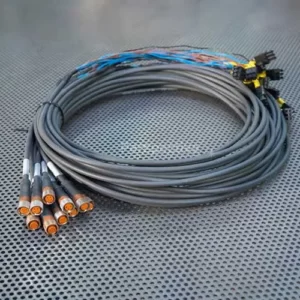 Sensor wiring loom
Sensor wiring loom manufacturing on demand.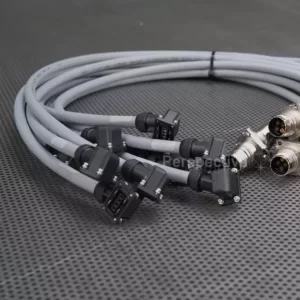 Cable harness with M-23 connector
Electric harness (hybrid) with M-23 connector.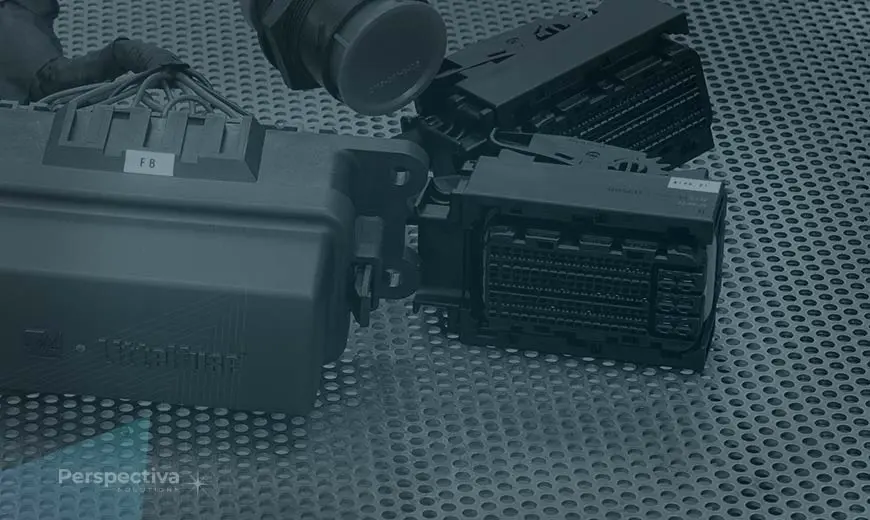 Wire harness, also known as cable harnesses, wiring harness or wiring loom, are a system of electrical wires or cables that have been connected and grouped to transmit electrical energy or electrical and information signals between various components of an electrical system.
Wire harnesses are carefully designed and manufactured to ensure reliable and safe transmission of energy and signals, minimizing the risk of interference and failure. The proper protection and insulation of wiring loom are crucial to ensure the safe operation of electrical devices and systems.
Wiring harness is a system of complex connections, a set of wires, cables, connectors, terminals and other electrical elements that allow the transmission of electric current or information signals. All these elements are connected together already at the stage of the wiring harness design process, which takes into account the working conditions and its application.
What is the difference between an electric harness and a cable harness?
The difference between a electric harness and a cable harness lies in terms of terminology and specific applications. Both terms refer to a set of wires or cables that are brought together to transmit electricity, signals, or data in specific applications. Electrical harness and cable harness are key elements in electrical and electronic installations, enabling the correct functioning and reliability of devices. In practice, these terms are often used interchangeably.
The use of wiring loom in industries
Wiring loom can be used to power machines, devices, systems, etc., as well as to transmit control and information signals. Wiring loom are also an important element in the automation of industrial processes.
Industrial automation
Cars, automotive
Construction – construction machinery
Agriculture – agricultural machinery
Electronics
Electrical industry
Aviation industry
Space industry
Medical industry
Communication industry (railway, public transport)
Arms industry
Structure of cable harnesses
Cable wires – Elements of the bundle that carry electricity or signals. They can have different sections and colors, which makes it easier to identify the function of individual wires.
Wire Insulation – A protective layer around wires that provides electrical insulation and protection against mechanical or environmental damage.
Connectors – Points where wires are connected to each other or to components. These can be plugs, sockets, clamps or other types of connectors.
Cable harnesses can contain a variety of components that enhance their functionality and performance. Some of the key components are:
Protection – Components such as fuses and circuit breakers that protect the harness and connected devices from current overloads or short circuits.
Ties, bands, tapes – They are used to keep the bundle in order and ensure mechanical stability. They can be flexible or non-flexible, depending on your needs.
Markings – Labels, tags, or colors used to identify wires and functions in a harness.
Designing wire harness for the client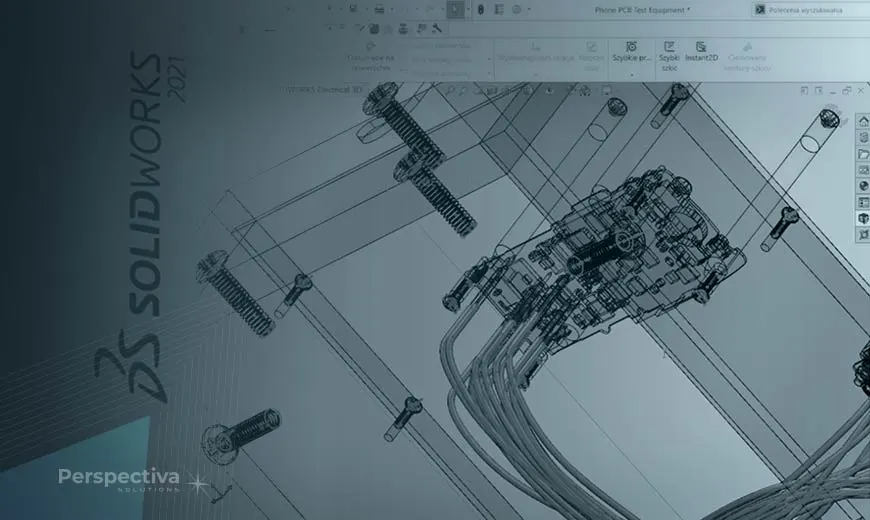 Reliable electrical harness design plays a fundamental role in today's automation and machinery systems. It is an important aspect that affects the efficiency and safety of equipment in many fields such as automotive, aerospace, electronics and telecommunications. Introducing precise and carefully considered solutions in the design of electrical harnesses is crucial to ensuring the uninterrupted operation of systems and minimizing the risk of failure. Faulty or poorly designed wiring harnesses can cause systems to fail, which in extreme cases can result in serious financial losses or danger to human life.
See also: Cable harness reliability for electric car charger points.
Why is reliable wiring harness design so important?
It is important to understand that it is not just the quality of the individual components of an electrical harness that matters, but also how they are designed and connected, and the use of safety features. Electrical design involves a comprehensive process that takes into account optimal wire routing, proper electrical markings and the application of the latest norms and standards. Understanding the principles of electrical design and meticulous implementation of these principles can make a significant difference in the longevity, efficiency and safety of the entire system.
Reliable wiring harness design is important for a number of reasons, including:
Safety: A reliable and correctly designed wiring harness is crucial to ensuring safety in electrical systems. Faulty connections or wiring can lead to dangerous failures and danger to life.
Performance optimization: A properly designed wiring harness can help optimize the performance of electrical systems. Proper cable placement and selection of the right materials can increase the efficiency and performance of your systems.
Cost reduction: Reliable wiring harness design can help reduce costs by minimizing breakdowns, reducing downtime and the need for repair.
Quality improvement: A good wiring harness quality can improve the quality of your products, especially for complex electrical systems such as cars and airplanes.
Compliance with standards: A properly designed wiring harness should comply with industry norms and standards, which is crucial for the acceptance and safe use of electrical systems.
In addition to powering the machine, electrical harnesses are very helpful when any of the parts fail. The wiring harness then sends a fault signal so that the central unit or operator can safely stop the machine. Proper alignment of the beam is therefore crucial.
Designing electrical harnesses for the client
Electrical harnesses are always made strictly according to the technical and quality guidelines provided by the customer. Designing wiring harnesses for a customer is a process of creating customized solutions tailored to the customer's specific needs and requirements. After all, it is the customer who knows best how the particular electrical device they want to use the wiring harness for works.
When designing electrical wire harnesses, there are many factors to consider, such as the type and size of the wires, the type of connectors, the way the components are connected, as well as aesthetic and ergonomic criteria. Based on our many years of experience, we offer wiring harness design and dedicated custom wiring harness manufacturing, advising on the best, optimal and most effective wiring harnesses.
A properly designed wiring harness can not only improve the reliability of the system, but also contribute to efficiency and savings in the long term. Professionally made harnesses are a guarantee of proper functioning of the device in which they will be installed. Therefore, the design of electrical harnesses should be entrusted to specialists who have the necessary experience and technical expertise.
Programs for the design of electrical harnesses:
Proper electrical markings in cable harness design are key to minimizing the risk of errors during installation and maintenance. Correctly identifying individual wires and their purpose facilitates diagnostics and repairs, which is important in case of potential problems. Therefore, using advanced tools, such as dedicated wiring harness design software, can speed up and streamline the process of creating complex solutions.
The most popular software for electrical harness system design:
CATIA Electrical Harness Design – This is an advanced wiring harness design software developed by Dassault Systèmes. It is a powerful 3D design software that offers a module specifically designed for wire harness design. It provides advanced tools for creating, managing and analyzing wiring harnesses in various industries such as aerospace, automotive and industrial.
Mentor Graphics Capital – It is a comprehensive software for designing electrical and electronic systems including wire harnesses. It enables data integration, cable harness route optimization and technical documentation generation.
E3.series – This is a tool from Zuken that offers advanced features for designing and documenting wiring harnesses and electrical systems. Zuken's E3 series is specialized electrical engineering design software that includes design and documentation functions for wiring harness installations.
SolidWorks Electrical -The program is part of the SolidWorks family and provides functions for electrical design including designing electrical harnesses along with creating a BOM – bill of materials. This is the tool our company is currently working on and we can recommend it.
See also: Advantages of designing wire harnesses in SolidWorks.
AutoCAD Electrical is a specialized version of AutoCAD tailored to the design of electrical installations, including the design of wire and cable harnesses. This is a version of AutoCAD dedicated to the design of electrical installations and wiring harnesses. It allows 2D design, management of symbol libraries and generation of reports.
SEE Electrical – This is electrical design software including electrical harness design. It allows you to create schematics and technical drawings, manage data and generate documentation.
Cadence OrCAD – Although primarily known as a PCB design tool, Cadence OrCAD also provides the ability to design and build an electrical harness system based on classic electrical design principles.
EPLAN Electric – It is an electrical design program that also supports electrical harness design. It offers advanced functions for data integration, analysis and project management.
Siemens NX Electrical Routing – Siemens NX offers a module for electrical routing and wire harness design, enabling integration with 3D mechanical designs With this program, electrical design has never been easier.
Wondering which program to choose for electrical harness design?
All of the listed programs are used in various industries and offer advanced features. They also all allow efficient design, management and documentation of wiring harnesses in complex projects. The choice of a particular program may depend on your needs and preferences, as well as the industry in which it will be used to design a wiring harness installation system.
What is the bill of materials?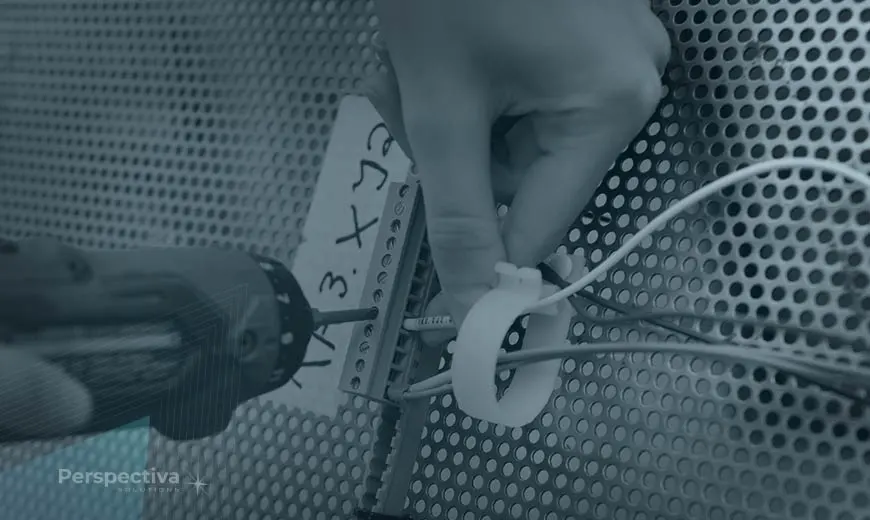 Bom – definition of a bill of materials
The Bill of Materials (BOM) for a cable harness is a document that contains a detailed list of all materials, components, and electrical components required to manufacture or assemble a specific cable harness. The production BOM also contains key information about logistics, i.e. information about the required quantities, suppliers. It also contains references to the technical drawing of the cable harness, indicating where the component is used. Different software tools, such as SolidWorks, provide features for creating and managing bill of materials with export to pdf. Templates are also available for efficient bill of material creation.
The BOM is essential in the process of designing, manufacturing and maintaining a cable harness, because it allows for precise determination of the quantity and types of elements needed, as well as quality control and consistency of production. It is also an indispensable source of information for the purchasing department.
Bill of materials example for cable harness
What does a bill of materials include for the cable harness? Here is a well-crafted bill of materials example serving as a clear illustration of how components come together in a structured assembly.
Wires and cables – Contains information about types of cables and wires, their lengths, sections and colors.
Connectors and connectors – Specifies the kind, type, number and connection method of connectors in the cable bundle.
Terminals (so-called pins or contacts) – Some connectors and contacts are supplied separately. It is therefore necessary to indicate information identifying the component, the supplier and the quantities actually needed for final cable harness.

Insulation and Shielding – Indicates the insulating materials, shielding, and electromagnetic shielding that protect the wire harness.
Mounting hardware – Assembly accessories – Indicates any hardware that will be used to assemble and secure the cable harness, such as tapes, ties, clamps, etc.

Labels and Markings – May contain information about labels and markings to be used to identify individual wires or connectors.
Gaskets and plugs – In order to ensure the hermeticity of the cable bundle, especially in the area of connectors, special terminal gaskets are used. And if there is an empty field in the connector without a terminal, very often dedicated plugs are used.
Additional items – For more complex cable harnesses, the BOM may contain information about additional items such as switches, diodes, fuses, etc.
What is the meaning and significance of bill of materials in the context of manufacturing and wire harness production processes?
The cable harness bill of materials serves as a reference for purchasing, manufacturing and quality control departments, ensuring consistency and accuracy throughout the manufacturing or assembly process. It serves as a bill of materials, also facilitating inventory management, cost forecasting and optimization of the cable harness design in terms of efficiency, reliability and production costs.
To sum up, a bill of materials is a vital document that ensures smooth and accurate production processes, effective communication, and optimized product design. It plays a fundamental role in various aspects of manufacturing, from procurement to quality control.
Cutting and stripping of electrical cables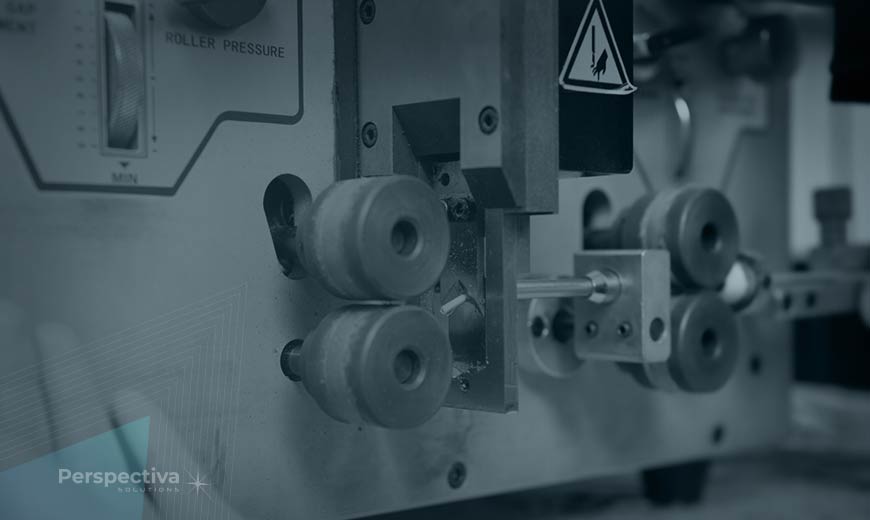 The first activity when making electrical harnesses is cutting and stripping electrical cables. The electrical harness is cut according to the demand for the length of the planned cable and taking into account the length tolerance of the finished product. When ordering, the customer specifies the length tolerance of the cable, which we take into account in the final dimension. In addition to the wire harness, we also cut heat shrinkable insulation, bushings, smooth conduit, and others.
For proper cutting of wire harnesses, our company has dedicated machinery equipped with precision automatic wire cutting and stripping machines. Automation of the process of cutting and stripping wires allows to significantly increase the efficiency and precision of electrical harnesses. The wires together with the insulations are cut at the same time, and for single/double/three/four-core cables, the insulation can be stripped automatically.
In the case of electrical cables with a larger number of conductors or when they are made of materials that are difficult to work with, the cutting of the cable bundle is divided into two stages.
The first is the automatic removal of the outer insulation during cutting.


The second stage is the manual stripping of the inner conductors, which also allows twisting the conductors of the cable to be able to achieve a non-frayed, uniform end of the electrical harness.
Automatic machines for cutting cables and stripping single-core wires
The automatic single-core cable cutting and stripping machine is an advanced device that greatly simplifies and streamlines the process of making an electrical harness. Thanks to its automatic functionality, it provides accurate cutting and stripping at a fast pace, minimizing the time and effort required to make a cable harness.
Operation of this machine is easy and intuitive. The worker only needs to plug in the machine, place the cable bundle wire in the appropriate place on the machine, set the appropriate cutting and stripping parameters, and then start the process. The automatic machine will do the rest of the work, accurately cutting the cable to the desired length and precisely insulating the end of the cable.
The key advantages of using an automatic cable cutting and stripping machine for single-core cables are as follows:
Efficiency: With its automatic functions, the machine can handle large quantities of wire harnesses in a short period of time, greatly increasing production efficiency.
Precision and Repeatability: Automatic machines are known for their precise cutting and isolation of wire harnesses, resulting in excellent assembly quality. In addition, the automatic nature of the machine guarantees the repeatability of the process, eliminating the risk of human error.
Safety: the operator is protected from the risk of injury that can occur when cutting and isolating wiring by hand.
Minimal material losses: Precision cutting minimizes material loss, resulting in savings in the production of electrical harnesses.
In order to maintain safe and efficient use, it is important that operators are properly trained to operate the machine, follow safety rules, and regularly maintain and service the machine.
Automatic cable cutting and stripping machines for single-core cables are available in different types and variants, depending on the needs and applications of cable harnesses.
Here are some types and a selection of the most frequently used types of these machines:
Automatic cable cutting and stripping machines for single-core cables.
Computer-controlled cutting and stripping machines that allow programming of a wide variety of cable lengths, sizes and insulation types.
Recognition and trimming machines that use advanced sensors to automatically recognize the length and dimensions of a cable bundle before isolating it.
Multifunctional machines that combine various tools to cut, isolate and split a cable bundle in one machine.
The automatic cable cutting and stripping machine for single-core cables is an indispensable tool in the electrical and electromechanical industry, contributing to improving the quality of work, saving time and materials in the production of electrical harnesses.
Labeling and marking of the wire harness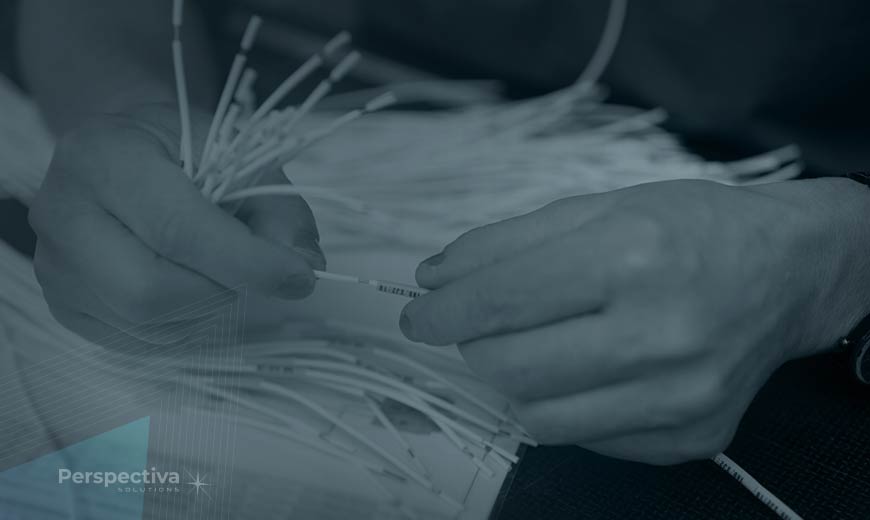 The operation of electrical harness labeling and marking is designed to speed up the process of identifying the type of cable in question. It also facilitates the subsequent installation process at the customer's site, as well as servicing and finding the cause of any cable harness failure.
There are five basic groups of wire coding according to color:
brown

or black – phase wire,

blue

– neutral wire,
yellow–

green

– PE protective conductor,
red – direct current cable plus,
black or blue – direct current wire minus.
In practice, however, the colors of the cables are much more diverse.
Sometimes, however, the color-coding of a cable harness is insufficient to be considered adequate, unambiguous information. Printed markers are then used, most often made on self-adhesive tape, heat shrinkable tubing, a so-called self-laminating label, or smooth protective tubing. Such a method allows the use of several colors of electrical harness markers, as well as the printing done on them, and, above all, allows the placement of any textual content desired by the customer.
How does the process of marking wire harness work?
The most common and simplest way to mark individual wires in an electrical harness is to use the different colors of insulation discussed above. However, you can, use markers made of heat shrinkable tubing to act as insulation. Our company has dedicated label printers and a laser marker, both of which are great for properly marking wire harnesses.
Label printers used to print markings on PVC tubing used to identify and mark cable harnesses vary depending on user needs and preferences.
Types of printers used in cable marking process:
Thermal transfer printers – are among the most widely used devices for printing labels on PVC tubing, ribbons and heat shrink tubing for cable harness marking. They use thermal transfer technology, which guarantees durable, abrasion-resistant and high-quality markings that are crucial for cable harness identification. The thermal transfer materials are available in a variety of colors, making it possible to create colorful labels with different information.
Thermal printers – are simpler to use than thermal transfer printers because they do not require the use of ribbons, and the image is directly printed on the label using heat. They are also convenient for printing on small quantities of labels.
Thermal transfer printers – these printers combine the features of thermal and thermal transfer printers, using thermal transfer technology to print on a variety of materials, including PVC tubing used in electrical wiring installations.
Inkjet printers – although less popular, can be used in some cases. They use inkjet technology to apply an image to the surface of the label.
Laser printers – are used more for printing labels on PVC tubing, but in some cases can be used for precise and permanent marking directly on the cable harness wire.
When choosing the right PVC pipe label printer for cable harnesses, it is important to consider the printer's specifications, such as print resolution, label width, availability of ribbons or materials, as well as the needs of the specific application. It is also important to choose a proven and reputable manufacturer to ensure that the printer will be reliable and meet expectations in terms of marking quality and performance.
Wiring harnesses are also marked with letters and numbers. Such marking informs about the conductor structure and usually consists of three parts:
letter – informs about the structure and material of the conductor, the material used to create the insulation and coating, as well as other supplementary information,
digital – informs about the rated voltage of the insulation,
digital – informs about the number and section of conductor.
There are times, however, when color coding is insufficient to be considered adequate, unambiguous information. Then, printed markers are used, most often made on a self-adhesive tape, heat-shrinkable tube, the so-called self-laminating label or protective tube. This method allows you to use several colors of markers, as well as the imprint made on them, and above all, it allows you to place any text content desired by the customer.
Crimping or soldering of wire harness terminals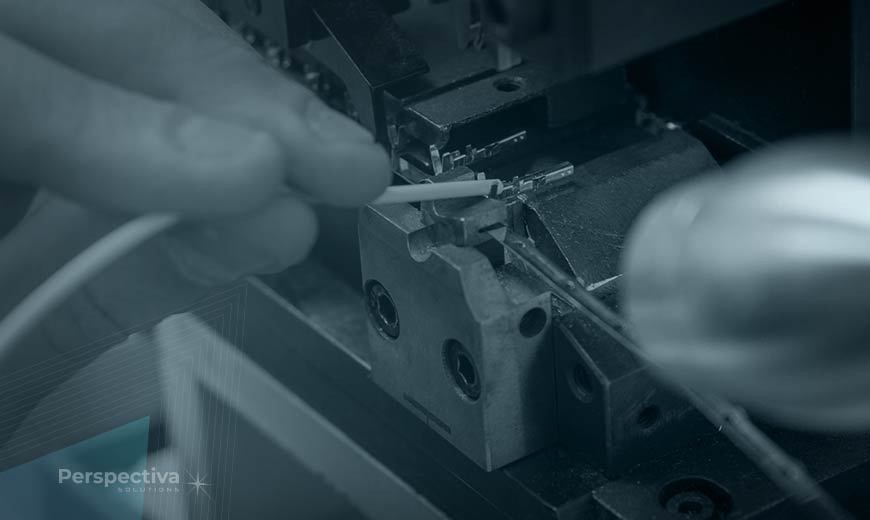 In almost every electrical harness there are terminals, or contacts of various kinds. Sometimes also called pins.
There are two basic types of contacts – open (open barrel) and closed (closed barrel).
The crimping activity can be performed with hand tools, but the best option is to use a press together with connector applicators. Traditional manual methods of crimping connectors are becoming increasingly impractical and time-consuming in the face of the growing complexity of electrical systems. An electric, pneumatic or semi-pneumatic press provides a fully automated way to connect electrical wires and wire harnesses to electronic components. Automated machines, on the other hand, represent a modern approach that uses technological solutions to meet the demanding requirements of manufacturing and assembling electrical harnesses.
Terminal/connector crimping machines
With the increasing demand for advanced and complex electrical systems, automatic wire harness terminal crimping machines, i.e. connectors, have become extremely important tools in the electrical and electronics industry. These innovative machines provide efficient and precise crimping of connectors on wires in an electrical harness, which is crucial to ensure reliable and safe operation of various types of equipment, vehicles, automobiles, machinery and systems.
Equipped with advanced control systems, sensors and programmable systems, these machines allow customized crimping parameters for different types of terminals, connectors and wires. Thus, they make it possible to produce electrical harnesses of consistent and reliable quality, which is crucial for industries where safety and precision are of the highest priority.
Automatic connector crimping machines have a positive impact on the efficiency of production processes, enabling fast and efficient crimping of connectors in a large number of electrical harnesses in a short period of time. This in turn translates into lower production costs and shorter time to market.
Types of automatic terminal/connector crimping machines
Automatic terminal/connector crimping machines for wiring harnesses are available in different types, depending on the needs and specifications of wiring harness production. Here are some popular types of automatic terminal crimping machines:
Crimping of apex connectors
These machines are designed to crimp apex connectors, that is, connectors that have a tip or crimp end. They use various mechanisms to precisely and firmly crimp the connectors on the wires of cable harnesses.
Crimping of twist-on connectors
These machines are dedicated to crimping twist-on connectors, which require proper twisting of the cable harness wires inside the terminal/connector to achieve a permanent connection.
Crimping insulated connectors
These machines are equipped with additional tools that make it possible not only to crimp connectors with additional insulating elements, but also to cut them from the support rail, saving time and ensuring an aesthetically pleasing appearance of the electrical harness.
Crimping IDC (Insulation Displacement Connectors) Connectors.
These machines are specially designed for crimping IDC connectors, which use insulation displacement technology to create an electrical connection. The use of such connectors results in perforation of the insulation during the crimping operation, this is known as IDC (insulation displacement connection). They are most often used with ribbon cables of cable harnesses. This is a different solution, which are connectors that do not require insulation displacement. They allow a simple multi-conductor connection, mainly for cables that do not need large wire cross sections.
Crimping connectors on terminal strips
These machines are designed for crimping connectors on terminal strips, which are often used in control panels and other electrical devices.
Crimping connectors on flat wires
These machines are dedicated to crimping connectors on flat wires, which require special mechanisms for precise and even crimping.
Crimping specialty connectors
Some machines are tailored to crimp connectors with specialized shapes or for applications in specific industries.
Choosing the right type of terminal crimping machine depends on specific production requirements and the type of connectors used in electrical harnesses. It is worth investing in advanced and high-quality machines that will ensure precise crimping of terminal/connector ends, resulting in durable and reliable connections in electrical harnesses.
Functions of automatic terminal/connector crimping machines
Automatic wire harness connector crimping machines offer many advanced features designed to ensure precise, reliable and efficient crimping of connectors. Below are some of the key features found in these machines:
Programmable settings: Automatic connector crimping machines have programmable settings that allow the crimping process to be adapted to different types of terminals/connectors and cable conductors. The operator can easily change crimping parameters such as crimping force, crimping duration and crimping size, allowing flexibility in production and, most importantly, reducing machine downtime due to changeovers.
Pressure control:
Advanced machines are equipped with pressure control systems that monitor the clamping force during crimping. This makes it possible to crimp connectors on wiring harnesses precisely and evenly, minimizing the risk of incorrect connections.
Sensors and vision systems:
Some machines use sensors and vision systems to help identify and locate wires and connectors. This allows the machine to automatically adjust to different sizes and types of terminals/connectors.
Error detection:
Automatic connector crimping machines are equipped with error detection functions that allow them to identify and respond to possible problems during wire harness crimping, such as interrupting the process if the crimping is not correct.
Safety systems:
To ensure the safe operation of the machine, many models have safety systems such as ABS guards, safety sensors and emergency stop switches to protect operators from the risk of damage.
Quick tool change:
Some machines are equipped with quick tool change systems, allowing the machine to be easily adapted to different types of connectors without long setup times.
Integration with automated systems:
Advanced machines can be integrated with automated systems, such as production lines or robots, enabling seamless workflow and increased production efficiency.
All of these features are designed to ensure high quality and reliable crimping of connectors on an electrical harness, which is key to ensuring durable and safe electrical connections in various industrial, automotive, electronic and other applications. Automatic connector crimping machines are not only more efficient, but also avoid human error and save time and costs in the electrical harness production process.
Metallographic cross-section of a crimped connector
A metallographic cross-section is a type of connector cross-section that allows assessment of the geometry of the crimped terminal, and thus, indirectly, allows assessment of the correctness of the cable bundle crimping process.
For electrical harnesses, taking a metallographic cross-section can further help understand the structure of the electrical beam material and identify potential material quality issues, such as inhomogeneities, inclusions, pores, micro-cracks, structural degradation, etc. This makes it possible to assess whether the material is properly suited for use in a given electrical application. A metallographic cross-section of a crimped connector is taken to verify the crimping process. E.g.: if the connectors are intended for electrical harnesses used in the automotive industry, where in the case of cars there are requirements related to the durability and gas tightness of such crimping.
The process of making a metallographic cross-section involves several steps, such as preparation of the cable bundle sample(cutting, embedding in resin), grinding, polishing, followed by a stage of microscopic analysis, often using an optical microscope or electron microscope. The examination is performed in the laboratory. First, the cross-sectional surface is ground, which, after etching with acid, is checked under the microscope. If the crimping went correctly, no electrical harness strands escape to the outside and no air enters, the production can continue.
Thus, by examining the metallographic cross section, valuable information can be obtained on the quality and microscopic structure of the material, which is crucial for many fields, including electrical wire analysis.
Taping or tying of the wire harness with cable ties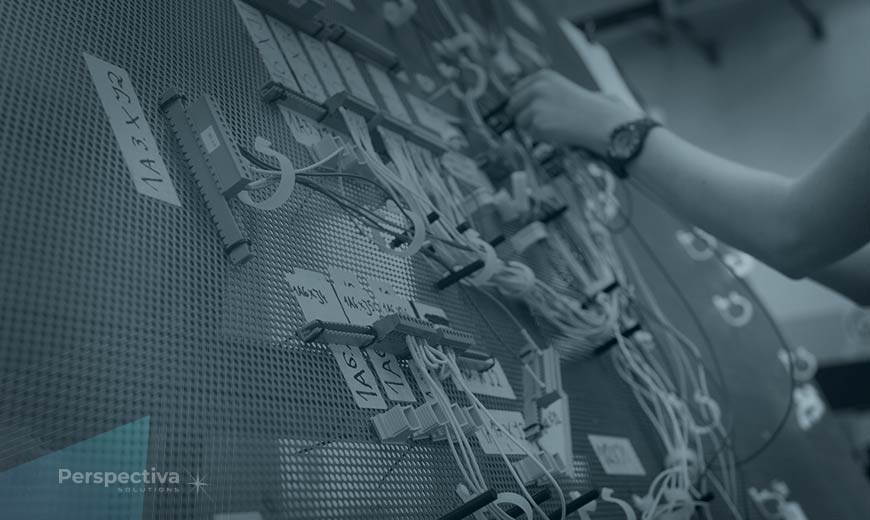 The main purpose of taping and bundling wire harnesses is to maintain order among the various types of wires that make up the cable harness and protect them from possible damage. In addition, this process allows the cable bundle to be formed and kept in the desired shape. By doing so, cable bundles can be properly fixed, grouped and segregated. This simplifies installation and eliminates cable tangles, resulting in safer operation. It also allows transparency in case of later repair or servicing.
Various types of cable ties are used to construct the cable harness, often with a dedicated application, depending on the conditions in which the cable will be located.
There are three main types of wire harness ties:
internal serrated,
serrated externally,
completely devoid of serrations.
Internal serrated ties are designed to bundle standard cable bundles and wires, external serrated ties are designed for cables with delicate insulation, while the last ones are used to organize cables with large diameters.
In addition, you can also distinguish:
unzipped bands (temporary, reusable),
non-split(fixed).
During this process, the assembly of sheaths (e.g., corrugated tubes, smooth tubes, braids) is also carried out, as well as with the strapping process – peszle, tensioned braids, artificial braids, metal braids.
Fixtures used in the manufacture and assembly of wire harnesses
Fixtures in finished wire harness assembly refer to devices or tools that are used to facilitate and streamline the process of assembling wire harnesses. These fixtures, also known as jigs or assembly jigs, are designed to ensure precise and repeatable positioning of wiring harness components to make sure that assembly is done according to the technical requirements of the project.
In practice, fixtures can take a variety of forms, from simple and handmade instruments to more sophisticated automated assembly systems. When designing fixtures, it is important to consider the specifics of the wiring harnesses they are to be used with and the assembly process.
The benefits of using fixtur in the assembly of prefabricated wiring harnesses include:
Precision: Fixtures allow for accurate placement and connection of wires, cables, connectors and other components, minimizing the risk of errors and ensuring high quality electrical harness assembly.
Repeatability: Thanks to fixtures, the assembly process can be easily repeated many times, which is crucial in mass production of wiring harnesses.
Time optimization: Fixtures allow for more efficient and faster assembly, saving time and labor costs.
Safety: Correctly designed fixtures can protect cable harnesses from accidental damage, and also provide protection against electric shock.
Facilitating testing: Fixtures can facilitate quality testing of wiring harnesses after the assembly stage.
It is important that those responsible for assembling wiring harnesses are properly trained in the use and operation of fixtures to be able to use them to their full potential and ensure the highest quality and efficiency of the assembly process.
In-process quality control of wire harness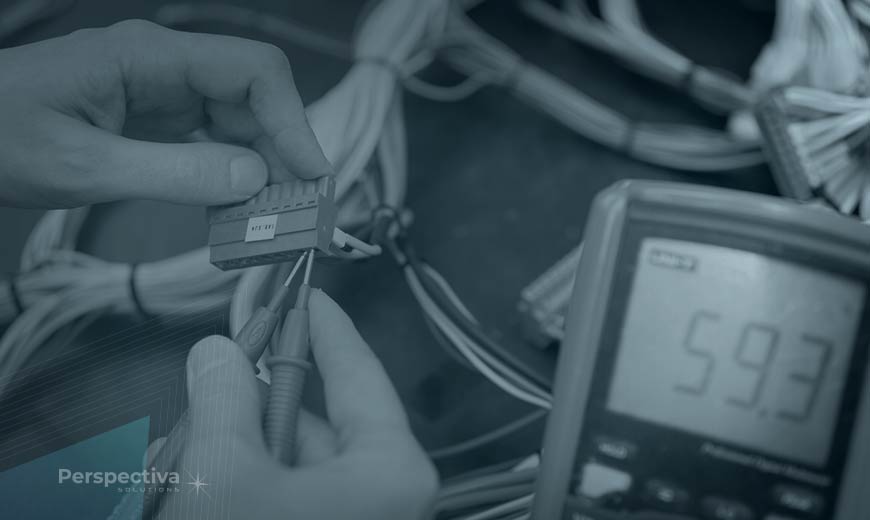 Inter-process quality control for the production stage of wire harnesses is a key element in ensuring the excellent quality and reliability of manufactured products. As the complexity of electrical systems increases and customer requirements become more stringent, electrical harness manufacturers are being forced to implement advanced in-process quality control strategies.
In this context, intra-operational quality control during various production stages plays a key role in eliminating potential defects, optimizing production processes and ensuring that the highest quality standards of electrical harnesses are met.
Quality control in the production of electrical harnesses is a process in which each stage of production is carefully monitored and samples are regularly checked for quality and compliance with the requirements of technical specifications. The use of precise tools, visual assessment, durability tests and automatic measurement systems allows the detection of potential defects and shortcomings at the early stages of wire harness production.
Mandatory during the entire wire harness production process in accordance with the so-called control plan. It involves carefully examining the correctness of the beam design, its target length, accurate cutting, and appropriate insulation.
Quality control tools in the wire harness construction process
Implementing advanced quality control tools and methods in inter-process quality control in wiring harness manufacturing brings many benefits to both manufacturers and product buyers. Here are some of the key tools and benefits of implementing advanced quality control methods for wire harnesses:
Vision systems: The use of advanced vision systems allows automatic monitoring of connection quality, detection of defects, and identification of wiring harness abnormalities in real time.
Endurance testers: allow load tests to check the strength and reliability of cables and connectors during normal use of the wire harness.
Identification and labeling systems: The implementation of advanced identification and labeling systems makes it possible to accurately mark and identify wiring harnesses, making them easier to install and operate
Automatic connector crimping machines: Advanced connector crimping machines allow precise and repeatable crimping of connectors on wiring harnesses. This eliminates human error and ensures consistent connection quality.
Assembly of the wiring harness​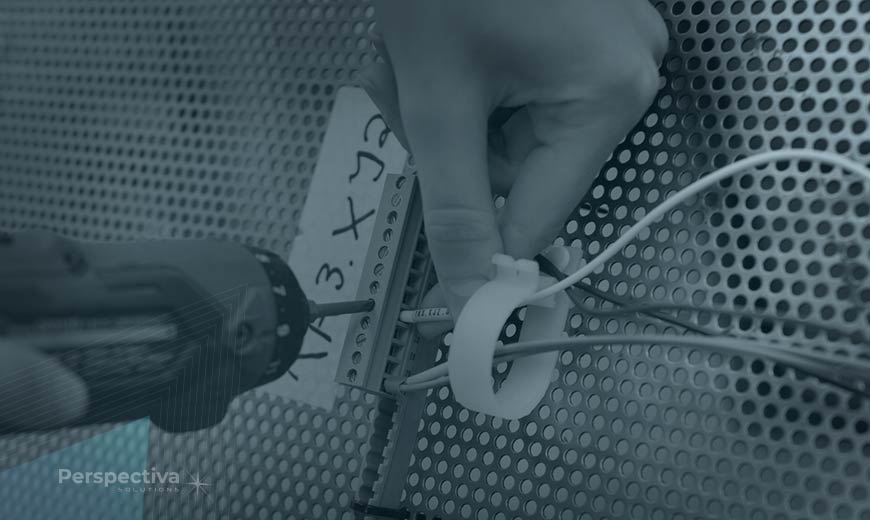 One of the last stages in the production of wiring harnesses is their assembly on a dedicated bench. The fixtures used for wiring assembly depend on the specifics of the wiring harness design. The assembly of electrical connectors itself involves snapping contacts into housings and connectorization, which is the seating of the contact in the connector. During this process, the precise attachment of the contact and the proper seating in the connector are checked. The tongue and pawl must be inserted into the connector tightly. The tongue and pawl must be inserted into the connector in such a way as to ensure positioning that will not dislodge on its own.
It is worth adding that when according to the customer's order, the production of wiring harnesses and their final fitting might be carried out on the customer's machine/equipment. It varies in complexity depending on the type of machine to which the wire harness is attached.
What does an wiring harness assembler do?
Do you want to know what the work of a wiring harness assembler consists of? Production of specialized wiring is a job that requires knowledge of wiring harness construction, which requires special focus and precision. A wiring harness assembler is a specialist who installs and assembles various types of wiring harnesses. He uses a schematic diagram and in his position the assembly of wiring harnesses takes place according to the assumed technical plans.
What tasks does an wiring harness assembler perform
Reading and interpreting schematics and technical plans
An wiring harness assembler must be able to understand and read complex wiring diagrams that show how to connect the various components of an electrical harness.
Preparation of wiring and installation of electrical harnesses
The assembler must prepare the appropriate lengths of cables, wires, connectors(e.g., crimp cable connector) and covers, and then construct the harness according to the technical requirements.
Connecting wiring harnesses to devices or installations
Once the wiring harness is made, the assembler must properly connect it to the appropriate components, such as motors, sensors, lamps, or other electrical devices.
Testing and diagnostics
Once the wire harness installation is complete, the fitter performs tests to verify that the wiring harness is working properly and has not failed. If necessary, he can also diagnose and repair any problems.
Taking care of safety
All electrical harness connections must be made in accordance with relevant safety standards and regulations to avoid the risk of failure or the danger of fire or electric shock.
Installation of covers and protections
The wire harness assembler must also ensure that the wiring harnesses are properly protected from mechanical damage, moisture, or other external factors.
The work of an wiring harness assembler requires precision, accuracy and knowledge of electrical engineering and assembly techniques. This profession is particularly important in industries such as automotive, electronics, aerospace, as well as in construction and electrical installations where the subsequent repair of an wiring harness that turns out to be defective can be quite a challenge.
How much will an wiring harness assembler earn in Poland?
The average earnings of a wiring harness assembler in Poland in recent years have ranged from about 2,500 to 4,000 PLN gross per month for entry-level workers. Experienced wire harness assemblers with longer experience and those working in more demanding industries or in positions with greater responsibility can earn even more, exceeding 5,000 PLN gross per month.
Check out our job openings! We may have a full-time position for a wire harness assembler right now and we need you!
Final quality control of the finished wiring harness
The final quality control of the finished wiring harness is a key step in the production process to ensure the excellent quality and reliability of the final product. The entire wiring harness quality control process is meticulously carried out at each stage of wiring production. Key aspects are verified, such as the precision of the cutting dimensions, proper isolation, geometric properties of the crimped contact, as well as the measurement of rupture force using a specialized electrical cable tester, and others.
Also decisive is the final verification of the correctness of the functioning and performance of the finished wiring harnesses. Before they are shipped to the customer, a carefully considered, detailed inspection is carried out, during which all components, connections, insulation and tags are carefully analyzed. Final testing includes assessing the correctness of electrical connections, eliminating any short circuits and ensuring insulation continuity. The checking process concerns not only the performance characteristics of the electrical harnesses, but also their fit with the equipment(compatibility with the device) to which they will be connected.
The purpose of final quality control is to make sure that each electrical harness meets the highest quality standards and conforms to technical specifications. Meticulous analysis of every detail is a key point, given the use of electrical harnesses in various fields, including automotive, electronics, telecommunications and other industries, where even minor errors can have serious consequences. That's why key tests, such as the electrical wire tester, tensile tests and strength tests, play an important role in ensuring the reliability and durability of wire harnesses.
Key aspects of the final quality control of the wiring harness
The final quality control of the finished wiring harness focuses on a thorough and meticulous inspection of every detail to ensure that the product meets the highest quality standards and conforms to technical specifications. We are talking here in the context of ensuring not only excellent quality, but also safety and customer confidence in the products supplied.
Jak sprawdzamy gotową wiązkę kablową?
Visual inspection
Visual inspection is an extremely important aspect of final quality control. Trained personnel carefully inspect each wiring harness for appearance, quality of connector crimping, wire insulation and correct labeling. Any defects, such as asymmetrical crimping or misplaced labels, are identified and recorded.
Strength and functional tests – measurement of breaking strength
During final quality control of an wiring harness, an indispensable tool is an electrical cable tester, whose main purpose is to conduct both strength tests – such as pull force measurement ( Table 1 – Measurement of breaking strength) and functional tests. In addition to testing for potential circuit breaks, cable harnesses are subjected to rigorous current and voltage load tests to verify their ability to maintain adequate performance.
Functional testing is also an important aspect to ensure that the wiring harness is operating as designed. The process of testing wire harnesses includes both tensile strength testing and wire continuity testing. As part of these procedures, a cable end break strength meter is used to accurately determine whether an electrical harness can withstand the actions associated with its use. The electrical wire tester plays a key role in the quality control process of wire harnesses, enabling accurate testing of the functionality, strength and integrity of the wires.
Checking insulation
Insulation of wires in an electrical harness is a key aspect of ensuring product safety and reliability. During quality control, it is verified that the insulation is properly made and meets specified safety standards.
Identification and labeling
In this step, inspection is also focused on the correct labeling and identification of wires and connectors in the harness. Ensuring proper labeling and identification facilitates the installation and operation of the wiring harness.
Recording and documentation
All quality control results are carefully documented and recorded. Recording allows results to be tracked and potential problems to be identified, and is important for audit and quality control purposes.
Safety
A key aspect of final quality control is to ensure that the wiring harness is safe to use. Electric harnesses are widely used in a variety of applications, including vehicles, machinery and medical devices, so reliability and quality are essential for the safe operation of these devices.
Table 1.
Measurement of breaking strength - pull strength test with electrical wire tester

Cable cross-section
Cable breaking force
mm2
AWGa
N
0,05
30
6
0,08
28
11
0,12
26
15
0,14
18
0,22
24
28
0,25
32
0,32
22
40
0,5
20
60
0,75
85
0,82
18
90
1,0
108
1,3
16
135
1,5
150
2,1
14
200
2,5
230
3,3
12
275
4,0
310
5,3
10
355
6,0
360
8,4
8
370
10,0
380
Testing the crimp connection of terminals/connectors on the electrical harness according to IEC 60760, clause 17 and IEC 61210.
The most important quality criteria in the production of wire harnesses
Safety: it is important that the wiring harness is safe for the user and does not pose a threat to health and life.
Durability: the wiring harness should be durable and resistant to mechanical damage and electrical interference.
Mechanical strength: each cable harness should meet the requirements of the standards for breaking strength.
Accuracy of connections: connections between wires should be accurate and durable to ensure proper current flow.
Isolation: Insulation: the insulation of the electrical harness should be effective in protecting against electrical damage and interference.
Accuracy of wire lengths: wire lengths should be accurate and appropriate to customer needs.
Performance: the wiring harness should work according to the design and technical specifications.
Testing: it is important that the wiring harness is tested before shipment to ensure that it meets quality requirements.
Zgodność z normami: ważne jest, aby wiązka elektryczna była zgodna z obowiązującymi normami i przepisami.
Aesthetics: it is important that the electrical harness is aesthetically pleasing and in line with customer expectations.
Packaging: it is important that the wiring harness is properly protected from transport and storage.
Preparation of wire harnesses for transport
Once the wire harnesses are created, we also make sure that they are properly protected and packaged for shipping and transport to the customer. We often use dedicated packaging, which makes the wiring harness look aesthetically pleasing and its sensitive components are protected. According to the customer's wishes, we segregate bundles and clearly mark them, so as to facilitate their later installation in the target machine. When packing, we are guided by reliability. Finished products are placed in a cardboard box, protected by stretch film so as to protect the bundles from moisture, and the empty spaces are filled with foam, so that even the most delicate products reach the customer intact. We often use a variety of forms of labels that allow us to easily identify the product.
Suggested articles related to the topic of wire harnesses
Note: The use of graphics from the article "Wire harness manufacturing process step by step!" is allowed as long as the source (link to the page) is mentioned.
Are you interested in the topic of contract production of electrical harnesses? Check out our services!